More than just a hotspot for disillusioned Californians and tech startups, Austin is fast becoming a hotbed for residential property investors and individual buyers looking for second homes.
Whether you want a short-term rental, monthly corporate rental, or the best long-term lease option for your second home,
Lyon Gegenheimer
at
Lyon Real Estate
can help you. Lyon and the team know Austin perfectly and work to stay ahead of market trends for Austin homes for sale.
Read on for Lyon's expert tips for buying your second home in this exceptional area.
Thoroughly research the housing market
In the late 2010s, the city famously attracted an outsized number of its population
from California
, although the majority of Austin transplants moved here from elsewhere in Texas. The past decade has seen a boom followed by a recent downshift in the Austin housing market. Just since 2020, Austin has fallen from the fastest-growing to the
16th-fastest-growing city
in the nation. However, the city continues to gain enough residents and businesses that forming a
metroplex with San Antonio
seems a realistic, if not quite inevitable proposition. In fact, Elon Musk's Boring Company made a pitch for an ambitious project in 2021: plans to connect Austin and San Antonio via a system of underground tunnels for high speed rail service utilizing tesla vehicles as passenger trains.
Austin's housing market is undoubtedly shifting — a growing sector of buyers is priced out of the market. That reality is reflected in the
most recent data
for Austin-Round Rock: there's more inventory, fewer pending and closed sales, and more days on market than last year. Despite these metrics, the median sales price in Austin has increased, an indication of the city's robust luxury housing market. Businesses continue to sprout in Greater Austin; the city remains a magnet for startups and investors, many of which are getting into the city's market for second homes.
It's true — if you want to buy a second home in Austin, you're competing with investors, who in 2021 bought about
a third of all single-family houses
in the metro area. Nationally, luxury second home transactions increased 25% year-over-year in Q2 2022; that same sales data represents a 235% increase since Q1 2020 (pre-pandemic levels). Statewide, the number of Texas homes selling for $1 million or higher increased about 90% from November 2020 to October 2021.
The bottom line: before you search for a second home and schedule private showings, you need to research the housing market in Austin, ideally with Lyon Gegenheimer on your side. It's simply the best way to narrow your search of downtown Austin real estate and identify the best downtown Austin homes for sale.
Determine what you want in a second home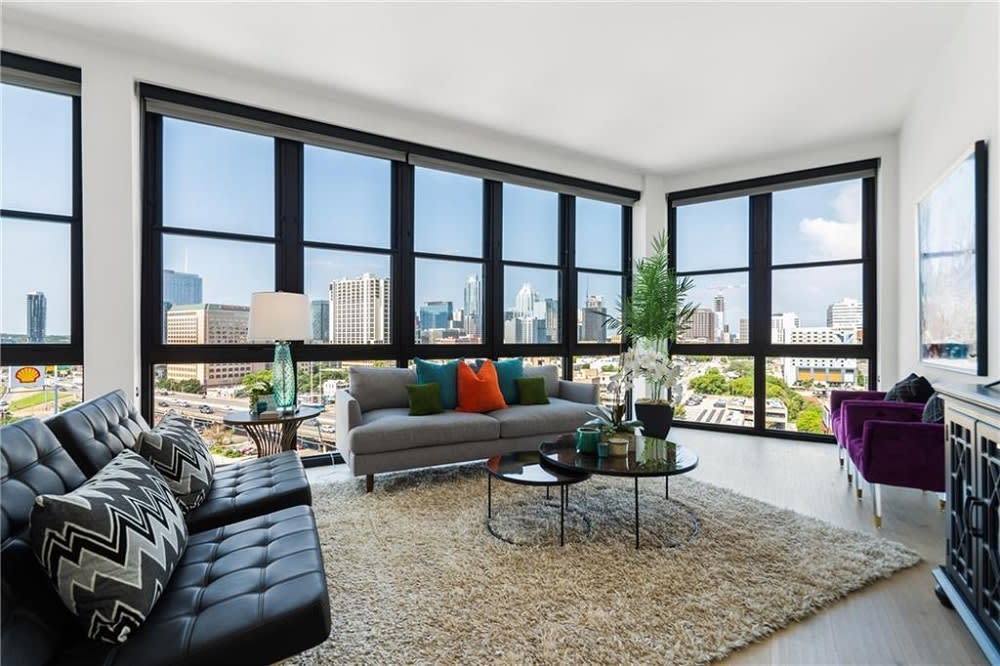 Lifestyle
Purely from a lifestyle standpoint, it's easy to see Austin's appeal. Second-time homebuyers are moving here for the short winter seasons, cosmopolitan downtown, and high quality of life. The cafes might be half-filled by digital nomads, but it's second-home seekers and buyers who are driving the market for Austin luxury homes.
If you're coming from New York, Miami, or San Francisco, and you'd like to be part of the
legendary Austin nightlife
and music scene, you can buy a second home or luxury condo in downtown Austin and still be only steps away from nature along the hike and bike trail of Lady Bird Lake running through downtown or retreat to one of several highland lakes and parks in and along the city's fringe.
Another legitimate reason to buy a second home in Austin is to leave behind the cold winter climates in places like Minneapolis or Chicago but retain your pedestrian-cafe-city lifestyle. In Austin, you can enjoy the lake lifestyle outdoors through the winter holidays. Even if you already live in Austin, a second home purchase just outside of the city (and into a deluxe lake house, for example) can set you up to enjoy retirement.
How will you live your best life? What amenities do you need? City lovers, festival goers, lakefront boaters, horseback riders, and old-town flaneurs all feel at home in Austin.
If that sounds like it could be you,
reach out to Lyon
and the team. They've helped hundreds of luxury buyers move to downtown Austin and throughout Greater Austin. By attending to the specific priorities of each luxury buyer, Lyon has an advanced understanding of the
why
as well as the
what
in buying a second home in Austin.
Financial considerations
When you buy a second home, you should consider the financial implications — and opportunities — accompanying your decision. You might:
Rent your second home to tenants in the offseason, or when you're not there.

Invest in additional properties to set up a successful, potentially early, retirement.

Fully transition to living in Austin and sell your previous home.
An experienced realtor like
Lyon Gegenheimer
can help answer any questions regarding second homes and how one can benefit or complement your finances in the long run.
Research Your Options
Downtown Austin, Central Texas (and Texas Hill Country), and quaint historic towns each have their advantages; between the differing lifestyles and financial opportunity, you might wish you could live everywhere at once! That's why Lyon and team have put together the following brief.
While not exhaustive, these are generally the qualities you can expect from life in downtown Austin, Texas Hill Country, and quaint historic towns adjacent to Austin.
Downtown Austin (pros)


Immediate access to food, entertainment, and culture

Valuable real estate investments that tend to appreciate

Quick Airport Access and numerous direct flights
Downtown Austin (cons)


Frequent traffic

Higher property taxes

Less storage and yard space
Texas Hill Country (pros)


Peaceful settings in charming towns

Access to nature, parks, and waterfront recreation

Horse stables

Long lines are uncommon
Texas Hill Country (cons)


Remote location (often far from doctors or emergency services)
Fewer options for groceries, dining & retail
Quaint historic towns (pros)


Omnipresent sense of history

Friendly social and communal spaces

Welcoming neighbors
Quaint historic towns (cons)


Smaller communities with fewer options

Lack of variety in routine
The pros and cons of downtown Austin stand out as particularly well-documented. It's the most popular destination, but by no means the only one. Throughout Greater Austin, residents enjoy the appeal of lakefront, riverfront, and Hill Country real estate, all of which deserve some elaboration.
Lakefront or riverfront property
Both in and outside Austin, riverfront and lakefront property entice boaters, fishers, and families hoping to spend a lot of time on the water.
There are over 10 lakes within an hour and a half drive from Austin, beginning with Lady Bird Lake in downtown Austin. The Texas
Highland Lakes
were established via a series of dams built by the Lower Colorado River Authority in the 1930s — the goal was to provide a chain of freshwater reservoirs for Central Texans. As a result, some of the cleanest and clearest water in the state can be found in these lakes. From swimming to boating, skiing, wake surfing, fishing, and sailing, the options for weekend fun are limitless.
Texas Hill Country
The scenic Texas Hill Country gives excellent views and is a fantastic alternative to the pace of downtown Austin if you prefer a nature-focused lifestyle. Towns like Dripping Springs, Marble Falls, and Johnson City are ideal for horseback riding or farming crops like pecans, peaches, olives, and lavender. You also can
make wine
.
Quaint historic towns
Thousands of Texas transplants are discovering the old-world charm of historic towns like Lockhart, Bastrop, Smithville, Taylor, Gruene, Georgetown, Fredericksburg, and Wimberly. Main streets and town squares are what these nearby communities are all about. For many, these towns offer the prospect of a return to when life was simpler.
Residents of the heart of Austin might enjoy downtown cosmopolitan lifestyles and also visit lakes, parks, and towns outside the metro area.
Contact Lyon Gegenheimer today at Lyon Real Estate Austin
If you have questions regarding purchasing a second home in downtown Austin real estate, contact
Lyon Gegenheimer
at
Lyon Real Estate
. Lyon has years of experience working in the various regions of the Austin, Texas, real estate market. He can answer your initial questions, identify with your concerns, and provide guidance in technical matters like home insurance, utilities, and maintenance of a second home.
Contact the Lyon Gegenheimer real estate team today to find your second home in this incredible area.

*Header photo courtesy of Lyon Real Estate